---
1-Motif
2-Motif
3-Teinture
4-Teinture
5-Lavage
6-Sechage
7-Finition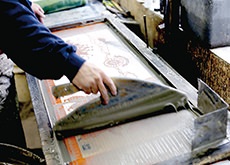 The white fabric is fixed to a table to be glued, then a stencil with patterns is applied on it. A special glue is stretched on the stencil with a spatula, which masks only the empty areas of the stencil. In this way, reserves of white are created, in the same way as the masking gum in watercolour.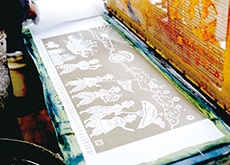 Once the sizing is complete, the stencil is removed and another fabric of the same size is superimposed on the first. The stencil is rested and gluing is repeated on the new fabric.
This operation is repeated 25 times to obtain 25 towels.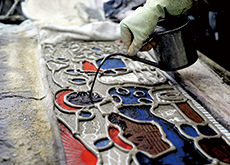 The fabrics are then placed on the dyeing table. Small adhesive partitions are placed at the boundary between each area of different colours. This allows the dye to be poured into a coloured area without it overflowing into neighbouring areas of different colours. The dye is then poured into each area.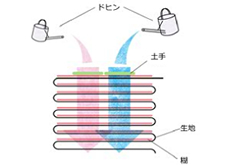 The underside of the dyeing table has a vacuum pump that sucks in the dye so that it quickly passes through the different layers of fabric without giving it time to diffuse into areas of different colours. Penetration is then uniform and effective.
This technique also avoids crushing the fabric, to keep the fabric's soft touch.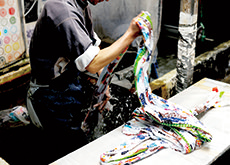 When the dyeing is finished, the fabrics are taken to the laundry room called the "river". There, the fabrics are washed to remove masking glue, wall glue and excess dye.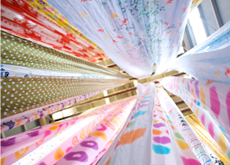 After careful washing, the fabrics are separated and dried in a dehydrator to fix the colours immediately.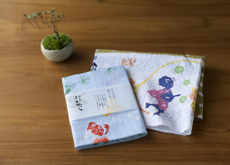 Once dried, the fabrics are all cut to the same size, the folds are removed, and the whole thing is inspected.
The selected fabrics are then folded and packed.
---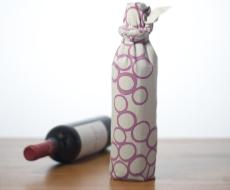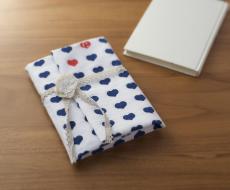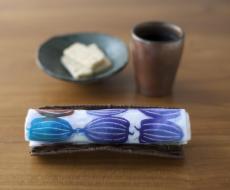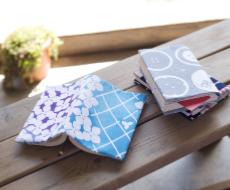 ---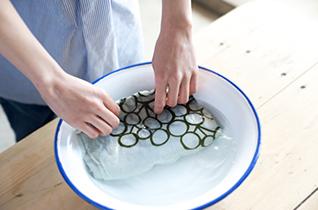 Do not wash with other products, do not use synthetic detergents or bleaching agents. After washing, adjust the shape and dry in the shade. Do not leave wet or leave in water for long periods of time. After washing, the fabric may shrink a little. You can use a steam iron. If the edges of Tenugui have frayed in the wash, you can cut the protruding weft yarns with scissors to avoid sharpening.