All our products are manufactured by our craftsmen in Japan. Most of them live in the Japanese countryside.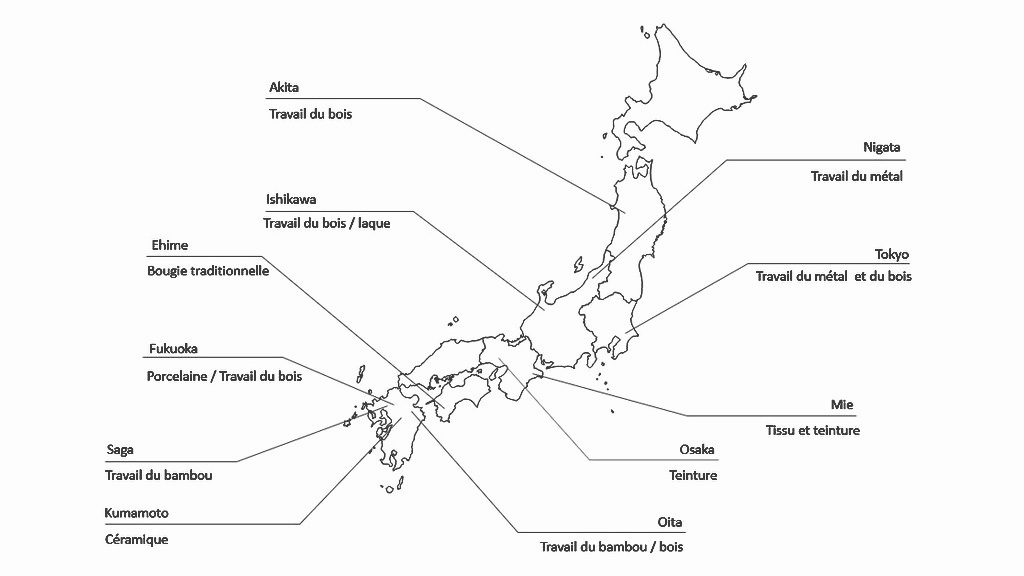 Hekizan ONIMARU
Master Hekizan ONIMARU's workshop is located in southern Japan. The history of the Takatori Gate dates back to 1630, when the Takatori pottery was created under the guidance of the famous architect and master of ceremonies of Edo tea, Kobori Enshū. Takatori Yaki is characterized by a thin ceramic, which gives it elegance, and influenced by the idea of beauty as expressed by Enshû according to the principle of kirei-sabi, which refers to simplicity and cleanliness, and the natural aging brought by the work of time.
Hekizan ONIMARU is the third generation of Takatori style potters. His work, Fragrant Cup, is typical of the Takatori style, its enveloping shapes enhance the fragrance of tea, coffee, and strong alcohol.
Shunji KURIMORI
Master Shunji KURIMORI is the sixth generation to perpetuate the Magewappa technique. The principle is based on the bending of thin wooden blades on a cylindrical support. The materials used are cedar or Japanese cypress. This technique allows the manufacture of Bento boxes or boxes to preserve rice. Magewappa is a traditional specialty from the northern region of Honshû Island, Japan. Master KURIMORI started this profession when he was only 18 years old. His experience and deep respect for this art explains the perfection of his works, with their perfect finish and unique design.
Tatsuya KAMINO
Designer and wood craftsman, Master Tatsuya KAMINO's workshop is located in the prefecture of Oita in Japan, a region rich in natural hot springs. After having been a designer for major brands, he founded his own woodworking workshop where he manufactures furniture, cutlery, crockery, and small objects and toys for children. It strives to favour the most natural materials. All his works are hand carved and delicately crafted.
Her small wooden plates, available on our shop, show a great sensitivity to an irresistibly cute design.
Tomotaka NAGAO
In his work, Mr. Tomotaka NAGAO is very inspired by his four children. Designer, he is also the head of his workshop. He makes functional works in a cheerful way (tanoshii), and he tries to convey this feeling in his works, made of safe and healthy materials, to bring happiness to our daily lives. His concept, "let's live with fun", is reflected in his creations. The mushroom-shaped bowl/bowl/spoon set for children, or the foldable and decorative flat tray, are all creations that are as pleasing to the eye as they are fun, for young and old.
Masayuki GATO
Master Masayuki GATO is the leader of Gatomikio Shoten. This store, founded in 1908 in the Ishikawa region, was first a carpentry shop. This region played a major role in the production of lacquer and woodworking for 450 years. The so-called "wiping" lacquer technique has been used in the production of most of our lacquered articles. This technique consists of applying a coat of lacquer, then wiping it off to leave only a very thin layer. After drying, a new coat of lacquer is applied in the same way. This process is repeated several times until it is finished. This technique respects the grain of the wood that has been carved by the craftsmen.
Gatomikio Shoten now offers modern works, adapted to the current way of life.
---
Tarou OMORI
In his family, Master Tarou Omori represents the sixth generation of craftsmen specialized in the manufacture of traditional Japanese candles. His workshop is located in Ehime Prefecture on Shikuko Island. Since the end of the Edo period, this region has flourished thanks to the manufacture of Japanese paper (Washi) and the production of natural Japanese wax (Warou) extracted from the tallow tree. The techniques used in Master Oumori's workshop are inherited from this period, and the family continues to preserve the manufacturing secrets of these unique traditional candles, hand-made one by one with the greatest care. The manufacturing process testifies to the technicality and intuition of the craftsmen, developed and refined over many years.
Nobuo KAI
Master KAI runs his workshop of the same name in the prefecture of Oita. Its speciality is the manufacture of bamboo cutlery, the Mousou bamboo of its region, as well as large birch wood from the Shimane prefecture. Drying bamboo is an important and delicate step, which depends on the weather and the season and requires a long know-how to avoid fractures that can occur during hot periods, or mould that can spread during the rainy season.
The materials and design of KAI's masterpieces are in perfect harmony with contemporary uses.
Shouchi TANIGUCHI
Wood craftsman and manufacturer of the wooden screw caps that ensure the watertightness of our isothermal bottle, Shouchi Taniguchi inherited his father's know-how and passed it on to his two sons who now work with him in their workshop in Ishikawa, a region of Japan where wood art and lacquer are very present. They are looking for ergonomics and the best design for the users of their products.
Their isothermal bottle presents a beautiful contrast of inspiration, combining the warmth of tradition, provided by the wooden stopper, and the cold of modernity, which is reflected in the shiny surface of stainless steel. This echoes the role of this bottle in keeping hot or cold drinks at their ideal temperature.
Denshiro
Since 1851, the Denshiro brand has been working on cherry bark. A long time ago, the mountain cherry tree had the same name as the birch tree: Kaba. This is why the work of cherry bark is called Kabazaiku, or "birch work". It is the traditional Japanese art of making tea boxes, smoking accessories and other cherry bark objects. Our craftsmen use the most natural materials and always strive to let wood express itself in their works. Our Kabazaiku series is not only functional but also elegant, to decorate your table.
Takahama Yaki
It was in Takahama, Kumamoto province, that the UEDA family opened its first ceramic furnace in the 18th century. Since then, it has also managed the kaolin quarry in the Amakusa region of Kumamoto, which produces a unique kaolin in the world, according to Japanese pharmacologist and geologist Gennai HIRAGA of the Edo period. This kaolin is used to make translucent and very hard ceramic pieces (yakimono). Even today, it is still recognized as the best in Japan. ARITA and SETO's high-end ceramics are made with this kaolin.
In our collection, you will find two ranges: the first, decorated with a reproduction of a motif representing an algae, dates from the Edo period; the second is more contemporary.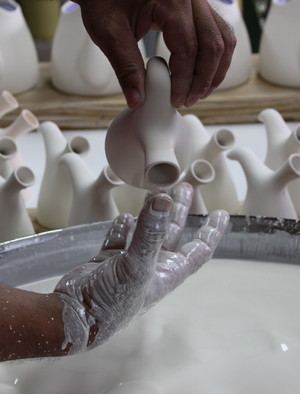 Maison Kuriyama
Mr. Kuriyama, is the fourth generation to work with bamboo. He lives in the Nishikawa Nobori district of Saga city. In Nishikawa Nobori, bamboo work first appeared as a secondary activity of farmers during the Meiji period. From the beginning of the 20th century until the end of the war, more than 500 craftsmen came to settle in this district and made it one of the largest centres of bamboo work. Today, there are only three companies in this area that still carry on this legacy, including Mr. Kuriyama's store. Mr. and Mrs. Kuriyama work together in their store to keep this tradition alive.
Mr. Kuriyama also aims to invent new bamboo products. Like his father before him, he wants to be a craftsman capable of producing everything he is asked to produce.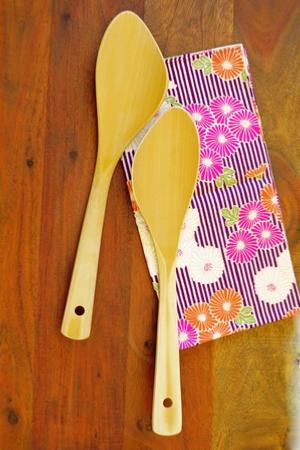 ---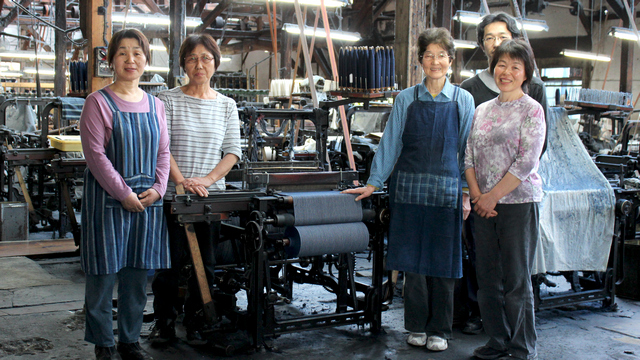 Coton of Matsusaka
It was in the second half of the fifth century that weaving techniques called "AYAHATORI" and "KUREHATORI" were developed in the city of Matsusaka; today, these techniques are considered a national treasure. Matsusaka has become a very important centre in Japan for fabric production due to the introduction of these new technologies.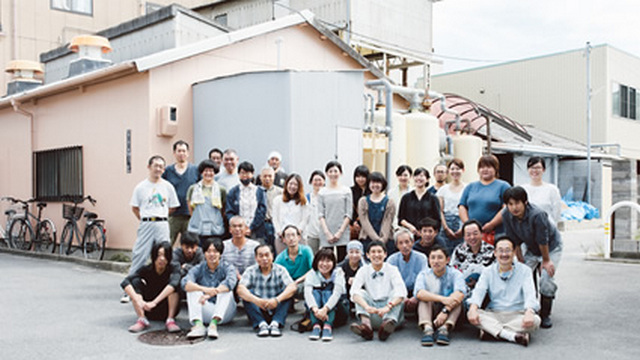 Nijiyura
Nijiyura is a brand of Tenugui, traditional Japanese towels, made by a dyeing workshop in Osaka, which has been perpetuating this profession for decades. While using their know-how and mastery of traditional techniques, craftsmen adapt their products to our current way of life.
---